No Job Too Big… No Job Too Small
Your trusted service provider, since 1993
We Pride Ourselves…
In Providing Professional Quality Work!
You Only Get…
What You Pay For!
Welcome to Halton Hydraulics
Specialists in Hydraulic Cylinder, Pump, Valve and Motor Repairs and Sales
Here at Halton Hydraulics we take great pride in our ongoing commitment to quality workmanship and the timely completion of hydraulic repair projects. We accomplish this through detailed inspections of your component and an accurate determination of the optimal solution. Our team of experts check all tolerances as well as analyzing the component for the cause of failure and recommended repairs. Within our facility, we stock seals, chrome shafting, tubing, solids, etc to ensure we complete the repair in an efficient manner. There is no job that is too large or too small and we would be happy to provide you with a quote for your specific needs. Rest assured that we will provide the best solution to ensure your repair results in maximum life expectancy of your component. Our experts can also advise you if it is determined that the replacement of your component is more cost effective than the repair.
We repair it Right… the first time
Downtime costs money – That's why it's important to analyse the problem, take corrective action and provide a quality repair.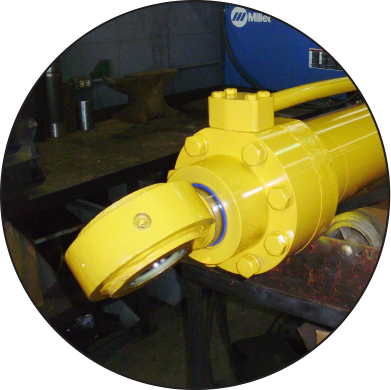 Repairs to All
Makes of Cylinders
Whether it be as small as an incubator cylinder for a hospital or a large multi tonnage cylinder for a car manufacture no job is too big or too small for us.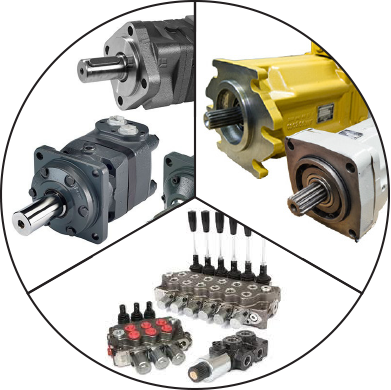 Hydraulic Pump, Valve,
Motor Overhauls &
Component Rebuilds
Complete overhauls – components are totally stripped, cleaned and replaced with all necessary new OEM parts  – this includes all bearing, seals, shafts, etc. Upon completion we pressure test your unit for leakage before it leaves our facility.

Complete Machine Shop
Capabilities
Whatever the job – whether it's lathe, boring, milling or welding we have the tools and capabilities.
Specialty Services, sales and repairs
At Halton Hydraulics we are not only limited to Hydraulic & Pneumatic repairs. Our skilled technicians & machinists have the capability to rebuild a variety of components and manufacture intricate assemblies for all industries. Equipped with 2 overhead bridge cranes, handling of our component rebuilds is done quickly and with ease. With year of experience comes a  multitude of suppliers to provide whatever parts or product that is needed to keep our customers working.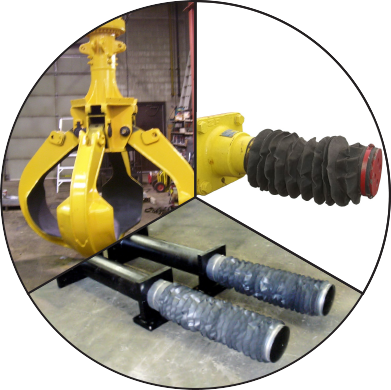 Specialty Repairs
Hydraulic grapple assembles, Oleo & Taylor bumper block are only a few of our specialty products that we repair.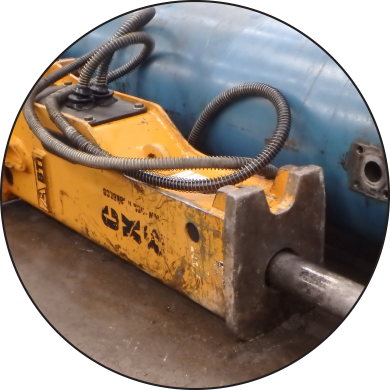 Hydraulic Hammers
All makes of Hammers are completely stripped, analyzed and rebuilt back to factory specs.

Gear Box & Custom Seals
Our customers rely on our ability to strip down gearboxes of all different sizes to restore back to operating standards.
Custom seals are made from difference type of material which is determined by the specific operating condition, fluid type, pressure, fluid chemical compatibility or temperature. Whether it be Buna, Viton, Polyurethane, Rubber, PTFE, etc. We can supply all types and sizes for your application. Did you know in some cases it's more cost effective to install custom seals then manufacturing a new replacement part?
Our clients have relied on our expertise and
superior customer service since 1993.
Halton Hydraulics has been repairing our hydraulic equipment for years. Most of our parts are critical or time sensitive, and I can trust Halton Hydraulics to do excellent work and return the part in a timely manner. On more than one occasion, I have had to call them to rush a critical part. They have always risen to the task and got my parts back to me quickly. Up until recently, I was sending our hydraulic jack cylinders to another repair shop. The repairs would last a few weeks before they would need to be sent back out for repair again. I sent those cylinders to Halton Hydraulics once several months ago and they have been working perfectly ever since. I highly recommend Halton Hydraulics.
Paula Brosseau, Arcelormittal Dofasco
We have been using Halton Hydraulics for over 15 years and I would highly recommend them to anyone. They have always provided with exceptional service and when needed they can provide our company a very quick turn around. Rob their main rebuild technician is very knowledgeable along with Stan the machinist they make a great pair. Keep up the great work guys, looking forward to many more years of quality work.
Stephen Van Horne, Cropac Equipment Inc.